DementiaWise® Efficacy Supported by Mixed-Methods Study
Dementia care training program evaluation conducted by Partnerships for Health and Duke University Occupational Therapy Doctoral Program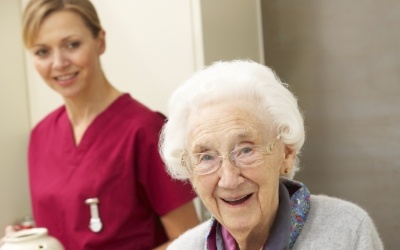 DementiaWise® is ComForCare and At Your Side Home Care's proprietary dementia care training program, which helps blended home care teams resolve dementia-related challenges collaboratively with clients. In 2019, Partnerships for Health joined forces with ComForCare and At Your Side to develop the comprehensive program aimed at completely redesigning the way home care agencies approach dementia care training in the U.S. and Canada.
While early feedback about the refreshed program was positive, a more comprehensive, data-driven evaluation was needed to demonstrate the program's impact and inform future program development. Thus, in 2022, ComForCare commissioned an independent program evaluation study to better understand the specific impacts on self-efficacy and satisfaction that DementiaWise™ training had on home care team members and what aspects of the program were most salient in their view. The research team (M. Heather McKay, PhD, OTR/L, Partnerships for Health in collaboration with Gloria Cesar, OTD-s and Stephanie Kim, OTD-s, Duke University School of Medicine, Occupational Therapy Doctorate Division) conducted an inferential statistical analysis of 203 survey responses submitted by home care team members representing different gender and racial identities, a mix of job titles, and a range of geographical locations.
The positive results found those who completed DementiaWise training felt better equipped and empowered to collaboratively care for clients living with dementia and their families (self-efficacy) and had greater job satisfaction compared to teammates who had not completed DementiaWise. Participants attributed the positive outcomes to specific features of the program, including emphasis on communication, helping clients live life to the fullest, seeing clients in their totality, and developing soft skills for caregiving on a team.
Download the full White Paper to learn more about:
Dementia Workforce Development Challenges in a Changing Home Care Environment
DementiaWise as an Innovative Solution
DementiaWise Evaluation From the Point of View of Home Care Teams
Summary of the Case-Control Survey Results